Kapri Corp is leading importer, exporter, and supplier of Mine Detector – Explosive Detection Equipment, Bomb Detection equipment provider, Bomb Detection equipment, Bomb Disposal equipment, BOMB/MINE DETECTION, Aviation and Airports Security solution, Defence Security Solution provider.
Kapri Corp provides Highly Advanced Range of High-Tech Security system, Explosives and Narcotics Detection, EOD and IDD Disposal, Scanning & Screening Solutions, and Surveillance Devices.
Delivering dependable safety and security solutions for decades, we offer the comprehensive portfolio of products for any High-Tech Security, Detection and Surveillance Solutions industry. Kapri Corp offers a wide range of High-Tech Security, Detection and Surveillance Solutions, products, specialization in the distribution and maintenance.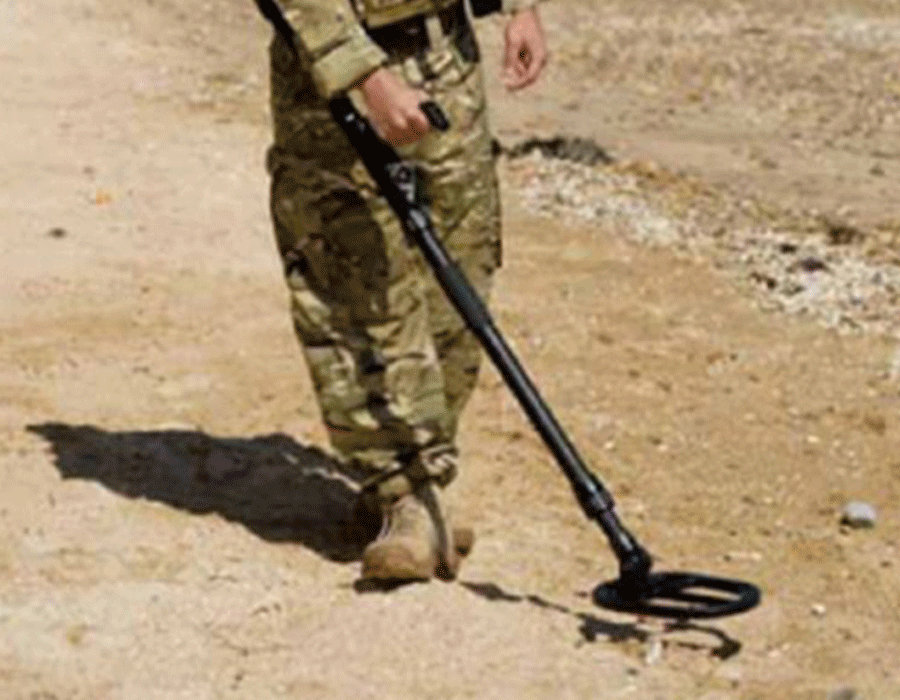 Mine Detector
One of the most reliable and robust detectors in the world, with high performance and pinpoint accuracy, the Guartel MD8+ is a hand held metal detector (HHMD) suitable for use by both civilian and military agencies.
The MD8+ utilises high-speed pulse induction to provide optimum sensitivity capable of detecting all currently deployed minimum metal AP and AT mines or small metallic targets. Automatic in both calibration and detection it is self-adjusting to the operating environment and because of its simplicity of use requires only minimal training.
Features of Mine Detector
With its compact design, MD8+ has no external cables, connectors or protrusions that will interfere with the operator's work. 

Design and manufacture provides a rugged, sealed, water resistant and highly reliable detector capable of being operated in all climatic conditions.

Novel detector head design and the LED array located on the turret helps facilitates the pinpointing of target munitions under the most difficult of conditions including the location of small targets in close proximity to large ones.
These above mentioned properties, features, and advantages makes Kapri Corp's Mine Detector the ultimate product choice for Security and Surveillance Systems. For additional information about this product or any other our range of products.
Kindly contact our technical experts for your specific needs and product requirements.
Do you have any questions or need help with our products? Submit a request or Call us.
Applications of Mine Detector
Guartel MD8+ is a hand held metal detector (HHMD) suitable for use by both civilian and military agencies and can be used for

Mine Detection/Clearance

Explosive Ordnance Clearance

Post Blast Scene Search

Area Search
Technical specifications of Mine Detector
| | |
| --- | --- |
| Best Price: | |
| Company: | Kapri Corp |
| Brand: | Kapri Corp |
| Category: | Explosive Detection Equipment |
| Mine Detector: | Mine Detector  |
| Min order Quantity: | 1 PC |
Why Kapri Corp
We, Kapri Corp are leading provider of High End Security Solutions to several major sectors. As a key service provider & supplier, we offer the right product and service to safeguard your business or home. We do import & export, and supplier of assorted security products that are effective in your project execution, be it small or big. Our comprehensive product line covers: Wireless Security Surveillance Systems, High Security Devices, Baggage Scanners, Metal Detectors & Explosive Detectors.
At Kapri Corp, we offer
Complete Security Solutions and surveillance products.

High-end products with robust quality and high reliability 

Superlative technical capabilities to address advanced industrial requirements for non-destructive testing. 

Highly trained team of support staff, we respond to calls for service and maintenance within the shortest possible time. 

Successfully and satisfactorily carried out numerous niche and critical projects since 2005.  

Delivered many prestigious projects providing equipment and providing supports to the Para- Military Forces (BSF & CRPF), CPOs and State Police, Corporate and Non-Governmental Organizations and most recently the Indian Army.
Browse our range of High-Tech Security, Detection and Surveillance products for its features, applications, product pricing, specifications and applications.