The Guartel MD8+ Mine Detector is a stalwart in the realm of metal detection, offering unwavering reliability, exceptional performance, and unparalleled precision. As a handheld metal detector (HHMD), it stands as a versatile tool catering to the needs of both civilian and military agencies.
Powered by high-speed pulse induction technology, the MD8+ exhibits peak sensitivity, enabling it to detect a spectrum of metallic objects including current-generation minimum metal anti-personnel (AP) and anti-tank (AT) mines, as well as small metallic targets. Its automatic calibration and detection mechanisms contribute to its user-friendly operation, automatically adjusting to the environmental conditions. The MD8+ is designed for seamless use, demanding minimal training for effective deployment.
Kapri Corp takes pride in being a frontrunner in importing and supplying cutting-edge security solutions, and the Guartel MD8+ Mine Detector is emblematic of our commitment to delivering superior products. With our extensive experience and expertise, we serve as a trusted source for acquiring this exceptional mine detection technology. For additional details on the Guartel MD8+ Mine Detector or any other products in our comprehensive portfolio, we invite you to connect with our technical experts.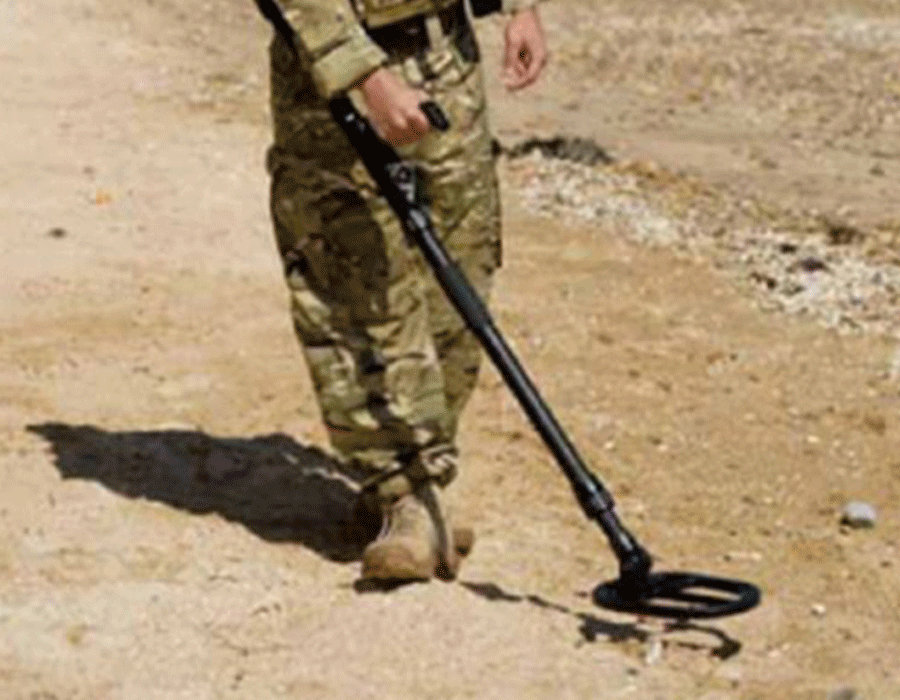 Specifications of Mine Detector
For Technical Parameters / Specifications, please download
Features of Mine Detector
The MD8+ Mine Detector boasts a range of features that solidify its position as a top-tier detection solution:
Compact and Cable-Free Design:

The MD8+ is crafted for ease of use, free from external cables, connectors, or protrusions that might impede the operator's actions.

Rugged and Reliable Construction:

Manufactured to withstand demanding conditions, the detector's design ensures its durability, water resistance, and reliability across various climatic environments.

Optimized Detector Head:

The innovative detector head design, coupled with the turret-mounted LED array, enhances target pinpointing. This is especially valuable when locating small objects in close proximity to larger ones, even in challenging scenarios.
The MD8+ Mine Detector exemplifies our commitment to providing products that are robust, efficient, and capable of meeting stringent security requirements. If you seek further insights into the MD8+ Mine Detector or any other offerings in our extensive product line-up, we encourage you to reach out to our technical experts.
Kindly contact our technical experts for your specific needs and product requirements.
Do you have any questions or need help with our products? Submit a request or Call us.
Applications of Mine Detector
The Guartel MD8+ Mine Detector serves a range of critical applications and is suitable for both civilian and military agencies. Its uses include:
Mine Detection/Clearance:

The MD8+ excels in detecting and clearing minefields, safeguarding lives and territories from hidden explosive hazards.

Post Blast Scene Search:

After an explosion, the MD8+ aids in locating residual explosive materials, facilitating investigations and recovery efforts.

Explosive Ordnance Clearance:

This detector contributes to the identification and removal of explosive ordnance, ensuring safe and secure environments.

Area Search:

The MD8+ effectively scans large areas to identify buried or concealed metallic objects, contributing to security and safety protocols.
With its versatile applications and capabilities, the Guartel MD8+ Mine Detector is an indispensable tool for various security and defense operations.
Technical specifications of Mine Detector
| | |
| --- | --- |
| Best Price | |
| Company | Kapri Corp |
| Brand | Kapri Corp |
| Category | Explosive Detection Equipment |
| Product name | Mine Detector |
| Battery | 3x D Batteries |
| Length | 920 mm – 1,320 mm |
| Weight | 2210 g |
| Alarm Mode | Sound |
| Automation Grade | Automatic |
| Minimum Order Quantity  | 1 PC |
Why Kapri Corp
We, Kapri Corp are leading provider of High End Security Solutions to several major sectors. As a key service provider & supplier, we offer the right product and service to safeguard your business or home. We do import & export, and supplier of assorted security products that are effective in your project execution, be it small or big. Our comprehensive product line covers: Wireless Security Surveillance Systems, High Security Devices, Baggage Scanners, Metal Detectors & Explosive Detectors.
At Kapri Corp, we offer
Complete Security Solutions and surveillance products.

High-end products with robust quality and high reliability 

Superlative technical capabilities to address advanced industrial requirements for non-destructive testing. 

Highly trained team of support staff, we respond to calls for service and maintenance within the shortest possible time. 

Successfully and satisfactorily carried out numerous niche and critical projects since 2005.  

Delivered many prestigious projects providing equipment and providing supports to the Para- Military Forces (BSF & CRPF), CPOs and State Police, Corporate and Non-Governmental Organizations and most recently the Indian Army.
Browse our range of High-Tech Security, Detection and Surveillance products for its features, applications, product pricing, specifications and applications.