Handheld Backscatter Scanner
The Handheld Backscatter Scanner, an innovative offering by Kapri Corp, redefines security screening with its compact and portable design. This single-sided imager is designed for effectively scanning objects in challenging and hard-to-reach areas. Its versatility spans a wide range of items, from vehicle tires and walls to car interiors, suspicious bags, furniture, small boats, and even aircraft interiors.
The Handheld Backscatter Scanner boasts a unique ability to provide detailed imaging of objects in spaces that are traditionally difficult to access. Its portability empowers security personnel to perform efficient inspections even in confined or narrow areas. This scanner utilizes backscatter technology to generate images, revealing hidden or concealed items that might pose security threats.
As a distinguished importer and supplier of security solutions, Kapri Corp brings the Handheld Backscatter Scanner to the forefront of security practices. The company's commitment to offering advanced and reliable equipment positions it as a leader in ensuring safety across various sectors. By importing and supplying the Handheld Backscatter Scanner, Kapri Corp contributes to the seamless implementation of state-of-the-art security measures, safeguarding public spaces, transportation hubs, and critical infrastructure. Contact Kapri Corp for purchase of Handheld Backscatter Scanner.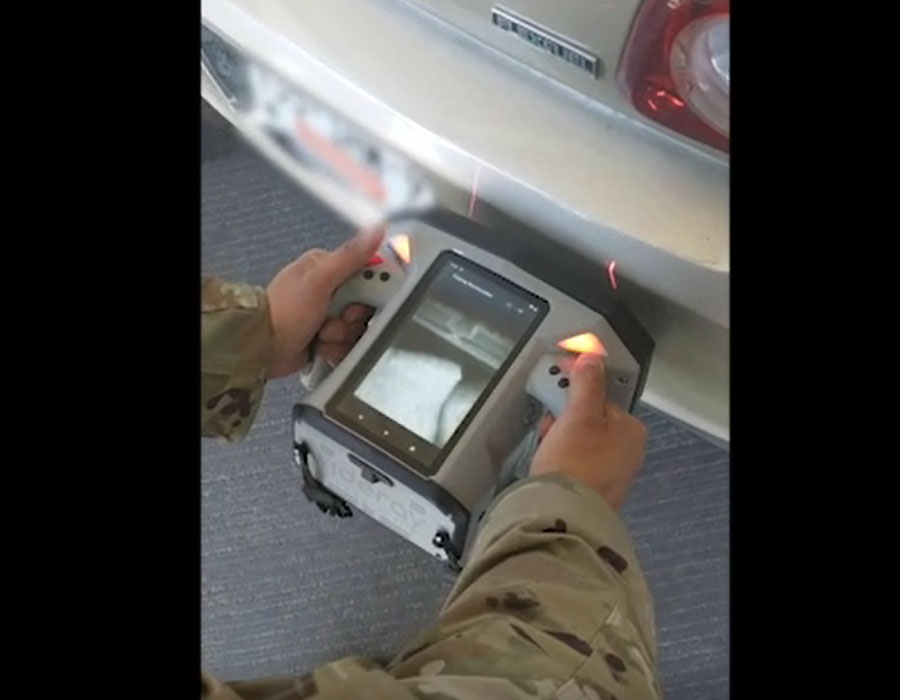 Specifications of Handheld Backscatter Scanner
For Technical Parameters / Specifications, please download
Features of Handheld Backscatter Scanners
The Handheld Backscatter Scanners offered by Kapri Corp exemplify cutting-edge technology and innovative design, ushering in a new era of security screening capabilities:
Real-Time Viewing:

Equipped with real-time viewing, the scanner proves to be an essential tool for efficient and accurate bomb detection teams.

High-Definition Display:

The 7" HD display with touchscreen interface ensures easy navigation and intuitive functionality.

Video Cloud Service:

Online service support and video cloud service enhance the operational efficiency and support capabilities of the scanner.

Real-Time Scanning:

Rapid and real-time scanning capabilities provide immediate insights into inspected objects.

Exceptional Penetration Power:

Boasting the highest penetration power of 6 mm steel, the scanner offers unparalleled inspection accuracy.

Advanced X-ray Imaging:

Best-in-class X-ray imaging technology empowers non-intrusive inspections, aiding in threat detection.

Portability and Flexibility:

Designed as a portable X-ray imaging solution, the scanner allows for quick and flexible deployment.

Powerful Performance:

As the most powerful handheld backscatter X-ray imager on the market, it ensures comprehensive and effective scanning.

Enhanced Image Resolution:

The scanner provides enhanced image resolution, coupled with the lowest user radiation exposure for safety.

Counterterrorism and Drug Detection:

The scanner's capabilities extend to countering drug smuggling and terrorism threats with efficiency.

Seamless Connectivity:

Full connectivity options including Wi-Fi, Bluetooth, GPS, and LTE ensure seamless data sharing and operational coordination.

User-Friendly Interface:

The scanner is designed to be user-friendly, featuring menus that facilitate easy training for end users.

Information Security:

A tamper-evident encrypted database ensures the security of sensitive information.

User Protection:

Proprietary X-ray shielding technology safeguards users during scanning procedures.
As a renowned importer and supplier, Kapri Corp introduces these Handheld Backscatter Scanners with a strong commitment to advancing security standards. Each scanner is compliant with all health standards, including type certification by the Atomic Energy Regulatory Board of India.
Kindly contact our technical experts for your specific needs and product requirements.
Do you have any questions or need help with our products? Submit a request or Call us.
Advantages of the Handheld Backscatter Scanners
Handheld Backscatter Scanners redefine security screening with remarkable advantages, setting new benchmarks in efficiency and effectiveness:
Instant Performance:

The scanners deliver instant and accurate results, ensuring swift threat detection and operational efficiency.

Mobility and Portability:

Designed for on-the-go operations, the scanners offer exceptional mobility and portability, ensuring security is maintained wherever it's needed.

High System Efficiency:

Backed by cutting-edge technology, the scanners provide high system efficiency, enhancing screening procedures.

Fail-Safe Design:

With a fail-safe design, the scanners ensure reliability even in demanding situations, contributing to seamless security operations.

Ease of Use:

The scanners are designed for overall ease of use, facilitating intuitive operation and reducing training time.

Rugged Construction:

Engineered with rugged construction, the scanners thrive in multi-terrain outdoor environments, showcasing their versatility.

Cost Effectiveness:

Offering a cost-effective solution, the scanners prove to be a valuable investment in enhancing security protocols.

Image Quality:

Delivering exceptional image quality, the scanners provide clear insights into scanned objects, aiding in precise threat detection.
By choosing these scanners, security agencies gain access to an unparalleled level of efficiency, accuracy, and ease of use. These scanners epitomize Kapri Corp's dedication to providing state-of-the-art security solutions for a safer world.
Applications of Handheld Backscatter Scanners
Kapri Corp's Handheld Backscatter Scanners offer a wide array of applications, revolutionizing security and inspection processes across various domains:
Security Inspections:

The scanners are instrumental in enhancing security protocols by providing swift and reliable inspections of bags, packages, and suspicious items.

Pipe Inspections:

These scanners facilitate thorough examinations of pipes and confined spaces, ensuring safety and uncovering potential threats.

Weapons Detection:

Equipped to identify concealed weapons, the scanners bolster security measures in sensitive areas.

Archaeological Inspections:

The scanners prove valuable in archaeological surveys, assisting researchers in non-destructive analysis of artefacts and historical objects.

IED and Explosives Detection:

With their advanced imaging capabilities, the scanners aid in detecting hidden explosive devices and materials, contributing to counter-terrorism efforts.

Welding Inspections:

The scanners play a crucial role in weld inspections, detecting flaws and imperfections for quality control.

Wall Inspections:

By providing insights into wall structures, the scanners aid in identifying hidden cavities or materials within walls.

Art Research:

These scanners contribute to the preservation and analysis of artworks, allowing experts to study layers and components without damage.

Mobile Inspections:

The scanners excel in scenarios requiring mobile inspections, making them versatile tools for various on-the-go situations.
With the ability to offer high-quality imaging and accurate results, these scanners have become indispensable tools for professionals across diverse sectors. For more information about this product or our comprehensive range of offerings, feel free to connect with our technical experts to address your unique needs.
Technical specifications of Handheld Backscatter Scanners
| | |
| --- | --- |
| Best Price: | |
| Company: | Kapri Corp |
| Brand: | Kapri Corp |
| Category: | Scanners |
| Product name: | Handheld Backscatter Scanners  |
| Steel penetration: | 6 mm |
| Image Acquisition Time: | 5 sec |
| Operating system: | Microsoft Windows XP/ Microsoft Windows |
| Exposure time: | Adj. from 1 to 300 sec |
| Storage temperature°C | -10 to +65 |
| Communication protocol     | Bluetooth, Wifi / Cable |
| Operating temperature °C | -10 to +50 |
| Power: | Battery powered |
| Min order Quantity: | 1 PC |
Why Kapri Corp
We, Kapri Corp are leading provider of High End Security Solutions to several major sectors. As a key service provider & supplier, we offer the right product and service to safeguard your business or home. We do import & export, and supplier of assorted security products that are effective in your project execution, be it small or big. Our comprehensive product line covers: Wireless Security Surveillance Systems, High Security Devices, Baggage Scanners, Metal Detectors & Explosive Detectors.
At Kapri Corp, we offer
Complete Security Solutions and surveillance products.

High-end products with robust quality and high reliability 

Superlative technical capabilities to address advanced industrial requirements for non-destructive testing. 

Highly trained team of support staff, we respond to calls for service and maintenance within the shortest possible time. 

Successfully and satisfactorily carried out numerous niche and critical projects since 2005.  

Delivered many prestigious projects providing equipment and providing supports to the Para- Military Forces (BSF & CRPF), CPOs and State Police, Corporate and Non-Governmental Organizations and most recently the Indian Army.
Browse our range of High-Tech Security, Detection and Surveillance products for its features, applications, product pricing, specifications and applications.