Kapri Corp is leading importer, exporter, and supplier of Electronic Stethoscope – Explosive Detection Equipment, Bomb Detection equipment, Bomb Disposal equipment, Aviation and Airports Security solution, Defence Security Solution provider.
Kapri Corp provides Highly Advanced Range of High-Tech Security system, Explosives and Narcotics Detection, EOD and IDD Disposal, Scanning & Screening Solutions, and Surveillance Devices.
Delivering dependable safety and security solutions for decades, we offer the comprehensive portfolio of products for any High-Tech Security, Detection and Surveillance Solutions industry. Kapri Corp offers a wide range of High-Tech Security, Detection and Surveillance Solutions, products, specialization in the distribution and maintenance.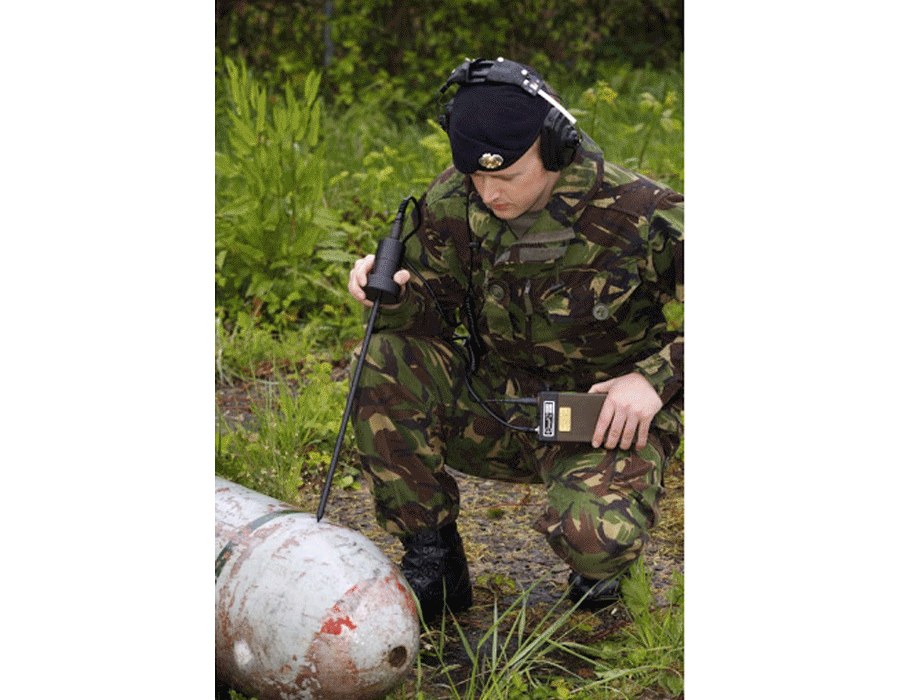 Electronic Stethoscope
The Electronic Stethoscope was designed for specific operations in the field of Search, IEDD and EOD, and is mainly used for the detection of weak signals such as from time delay devices and clockwork timers frequently found in EDs or incendiary devices. The equipment comprises a main amplifier with multiple sensors, each with a specialized role
Contact Search Head
The contact search head is used for the detection of impact sound travelling through solid surrounding material such as pipes and packing material. The contact sensor operates as a very sensitive impact sound transducer picking up weak signals from mechanical time delay devices traveling through solid material which are below the human hearing level.
High Frequency Non-Contact Search Head
The non-contact search head applies a high frequency method for a contactless detection of oscillating material as in example in clockwork mechanics. The non-contact search is a useful and complementary means in the system as it penetrates dielectrical material such as wood, packing and plastics, small bricks etc. It is not interfered by airborne sound. In addition, it interacts with numerous electronic devices. The non-contact search head applies a HF method to locate oscillating objects and is not affected by any airborne sound.
Magnetic and Pulse Non-Contact Search Head
The MPS probe close a gap in the range of sensors. It is sensitive to magnetic and pulsating HF signals produced by time delay devices. The detection range resp. detection ability depends on the intensity and distance to the targets. The noncontact MPS sensor is sensitive to HF from a wide range of local oscillators and to magnetic pulses. The amplifier was designed to offer an outstanding signal to noise ratio and a powerful step less adjustable filter.
Kindly contact our technical experts for your specific needs and product requirements.
Do you have any questions or need help with our products? Submit a request or Call us.
Advantages of the Electronic Stethoscope
Designed to detect very weak sound waves produced by mechanical clockwork detonators found within unconventional explosive or incendiary devices.

Detects, amplifies and identifies the sound waves using the selection of acoustic sensors.

Essential tool for the detection of EOD and IEDD and other search activities.

Able to detect acoustic activity through all manner of construction materials including wood, glass, brick etc.
These above mentioned properties, features, and advantages makes Kapri Corp's Electronic Stethoscope the ultimate product choice for Security and Surveillance Systems. For additional information about this product or any other our range of products. The Electronic Stethoscope is in service globally with numerous EOD/IEDD and Search teams.
Applications of Electronic Stethoscope
The Electronic Stethoscope is used by many Security Agencies around the world to detect mechanical and electronic timers and devices.
Technical specifications of Electronic Stethoscope
| | |
| --- | --- |
| Best Price: | |
| Company: | Kapri Corp |
| Brand: | Kapri Corp |
| Category: | Explosive Detection Equipment |
| Electronic Stethoscope: | Electronic Stethoscope  |
| Min order Quantity: | 1 PC |
Why Kapri Corp
We, Kapri Corp are leading provider of High End Security Solutions to several major sectors. As a key service provider & supplier, we offer the right product and service to safeguard your business or home. We do import & export, and supplier of assorted security products that are effective in your project execution, be it small or big. Our comprehensive product line covers: Wireless Security Surveillance Systems, High Security Devices, Baggage Scanners, Metal Detectors & Explosive Detectors.
At Kapri Corp, we offer
Complete Security Solutions and surveillance products.

High-end products with robust quality and high reliability 

Superlative technical capabilities to address advanced industrial requirements for non-destructive testing. 

Highly trained team of support staff, we respond to calls for service and maintenance within the shortest possible time. 

Successfully and satisfactorily carried out numerous niche and critical projects since 2005.  

Delivered many prestigious projects providing equipment and providing supports to the Para- Military Forces (BSF & CRPF), CPOs and State Police, Corporate and Non-Governmental Organizations and most recently the Indian Army.
Browse our range of High-Tech Security, Detection and Surveillance products for its features, applications, product pricing, specifications and applications.