A Bomb Suppression Blanket, along with the safety circle, forms an essential part of modern security and counter-terrorism strategies. These specialized tools are meticulously engineered to counteract and mitigate the destructive effects of explosive devices, thereby ensuring the safety of both individuals and property. Kapri Corp, a renowned importer and supplier of security equipment, stands at the forefront of providing advanced Bomb Suppression Blankets to address the growing security challenges of today's world.
The Bomb Suppression Blanket, a critical element in the realm of explosive threat containment, is designed with precision to neutralize the impact of explosions, particularly in confined spaces. Engineered to adhere to the stringent STANAG 2920 or MIL-STD 662F fragmentation protocols, these blankets offer robust protection against explosive threats. Their design is optimized to withstand varying levels of blast pressure and fragmentation velocities, making them a formidable defense against potential harm.
Key Features and Attributes:
Comprehensive Threat Mitigation: The bomb suppression blanket is a reliable and effective tool designed to suppress and contain the blast effects of explosive devices. Its strategic positioning ensures that the energy generated by the explosion is absorbed and dispersed, minimizing the extent of damage.
Versatile Protection: These blankets are calibrated to offer protection against a wide range of explosive devices, with specific performance parameters defined by standards such as STANAG 2920 and MIL-STD 662F. Their ability to withstand threats from 100 gm RDX to 2 kg TNT blast suppression with V50 velocities ranging from 450 to 670 m/s highlights their versatility.
Safety Circle Integration: The safety circle, often used in conjunction with the bomb suppression blanket, creates a controlled environment that maximizes the protective capabilities of the blanket. Together, they form a cohesive defense mechanism that envelops the potential explosive threat, limiting its impact.
Kapri Corp, as a prominent importer and supplier, recognizes the paramount importance of robust and reliable security equipment in today's complex security landscape. By offering high-quality Bomb Suppression Blankets, Kapri Corp plays a pivotal role in empowering security personnel, law enforcement agencies, and first responders with the tools they need to effectively manage and mitigate explosive threats.
The role of Kapri Corp extends beyond the supply of cutting-edge security solutions. With a commitment to safety, preparedness, and risk reduction, the company ensures that its Bomb Suppression Blankets adhere to the highest quality standards. By offering these blankets, Kapri Corp contributes significantly to enhancing security measures, protecting lives, and safeguarding critical infrastructure against the ever-evolving threat of explosive devices.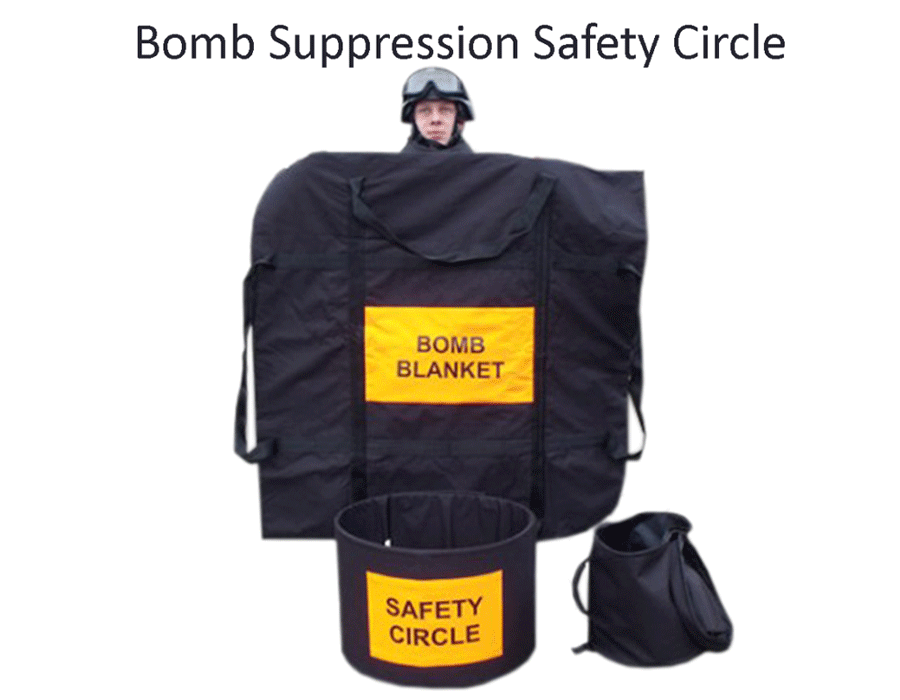 Specifications of Bomb Suppression Blanket
For Technical Parameters / Specifications, please download
Features of Bomb Suppression Blanket
The Bomb Suppression Blanket by Kapri Corp offers a comprehensive set of features that make it an exceptional solution for countering explosive threats and enhancing security measures. Designed with precision and incorporating advanced materials, these features ensure the blanket's effectiveness and reliability in critical situations:
Rapid Deployment Assistance:

Equipped with four heavy-duty webbing carry straps, the bomb suppression blanket is designed for swift and efficient deployment. This feature enables security personnel and first responders to quickly position the blanket where it's needed most, minimizing response time.

Multi-Layered Ballistic Construction:

The construction of the blanket comprises multiple layers of treated aramid ballistic fabric. These layers are seamlessly integrated into an outer cover that is both fire-retardant and water-repellent. This design not only enhances the blanket's protective capabilities but also ensures durability in challenging conditions.

Distinctive Identification:

The blanket is prominently labelled with "BOMB BLANKET" in black on fluorescent orange. This clear labelling serves as a visual indicator, making it instantly recognizable and accessible during critical situations.

Semi-Rigid Safety Circle:

To complement the bomb suppression blanket, a lightweight and semi-rigid safety circle is included. This circle provides essential support to the blanket, enhancing its effectiveness in containing explosive threats. The safety circle's adjustability through Hook and Loop fastening allows for easy customization and adaptability.

Reinforced Ground Contact Edge:

The bottom edge of the safety circle is thoughtfully reinforced to prevent wear and tear when in contact with the ground. This reinforcement ensures the longevity and reliability of the safety circle during repeated deployments.

Customization Options:

Kapri Corp understands the diverse security requirements of different environments. Therefore, the bomb suppression blanket can be manufactured in various sizes and protection levels, tailored to meet specific needs. Additionally, the option to choose different colours for the outer cover and webbing handles allows for alignment with customers' color and marking preferences.
These above mentioned features makes Kapri Corp's Bomb Suppression Blanket the ultimate product choice for Security and Surveillance Systems. For additional information about this product or any other our range of products.
Kindly contact our technical experts for your specific needs and product requirements.
Do you have any questions or need help with our products? Submit a request or Call us.
Applications of Bomb Suppression Blanket
The versatile Bomb Suppression Blanket finds crucial applications in enhancing security and surveillance systems. Its effectiveness extends to various scenarios where explosive threats are a concern. Some key applications include:
Security Inspections:

The Bomb Suppression Blanket is an invaluable tool during security inspections, enabling swift response to potential explosive threats. Its rapid deployment and reliable protection ensure the safety of security personnel and the public in sensitive areas.

IED and Explosives Detection:

In situations involving improvised explosive devices (IEDs) and other explosive threats, the blanket proves essential for containing and mitigating the impact of blasts. Its multi-layered defense system aids in minimizing fragmentation risks and blast effects, enhancing the safety of responders and civilians alike.
Kapri Corp's Bomb Suppression Blanket serves as a proactive measure against explosive risks, contributing to effective security protocols and safeguarding against potential dangers. For more information about this product or other offerings within our portfolio, please don't hesitate to get in touch with us.
Technical specifications of Bomb Suppression Blanket
| | |
| --- | --- |
| Best Price: | |
| Company: | Kapri Corp |
| Brand: | Kapri Corp |
| Category: | Explosive Detection Equipment |
| Bomb Suppression Blanket: | Bomb Suppression Blanket |
| Min order Quantity: | 1 PC |
Why Kapri Corp
We, Kapri Corp are leading provider of High End Security Solutions to several major sectors. As a key service provider & supplier, we offer the right product and service to safeguard your business or home. We do import & export, and supplier of assorted security products that are effective in your project execution, be it small or big. Our comprehensive product line covers: Wireless Security Surveillance Systems, High Security Devices, Baggage Scanners, Metal Detectors & Explosive Detectors.
At Kapri Corp, we offer
Complete Security Solutions and surveillance products.

High-end products with robust quality and high reliability 

Superlative technical capabilities to address advanced industrial requirements for non-destructive testing. 

Highly trained team of support staff, we respond to calls for service and maintenance within the shortest possible time. 

Successfully and satisfactorily carried out numerous niche and critical projects since 2005.  

Delivered many prestigious projects providing equipment and providing supports to the Para- Military Forces (BSF & CRPF), CPOs and State Police, Corporate and Non-Governmental Organizations and most recently the Indian Army.
Browse our range of High-Tech Security, Detection and Surveillance products for its features, applications, product pricing, specifications and applications.