Kapri Corp is leading importer, exporter, and supplier of Bomb Suppression Blanket- Explosive Detection Equipment, Bomb Detection equipment, Bomb Disposal equipment, Blast Inhibitors – Bomb Suppression Blanket, Aviation and Airports Security solution, Defence Security Solution provider.
Kapri Corp provides Highly Advanced Range of High-Tech Security system, Explosives and Narcotics Detection, EOD and IDD Disposal, Scanning & Screening Solutions, and Surveillance Devices.
Delivering dependable safety and security solutions for decades, we offer the comprehensive portfolio of products for any High-Tech Security, Detection and Surveillance Solutions industry. Kapri Corp offers a wide range of High-Tech Security, Detection and Surveillance Solutions, products, specialization in the distribution and maintenance.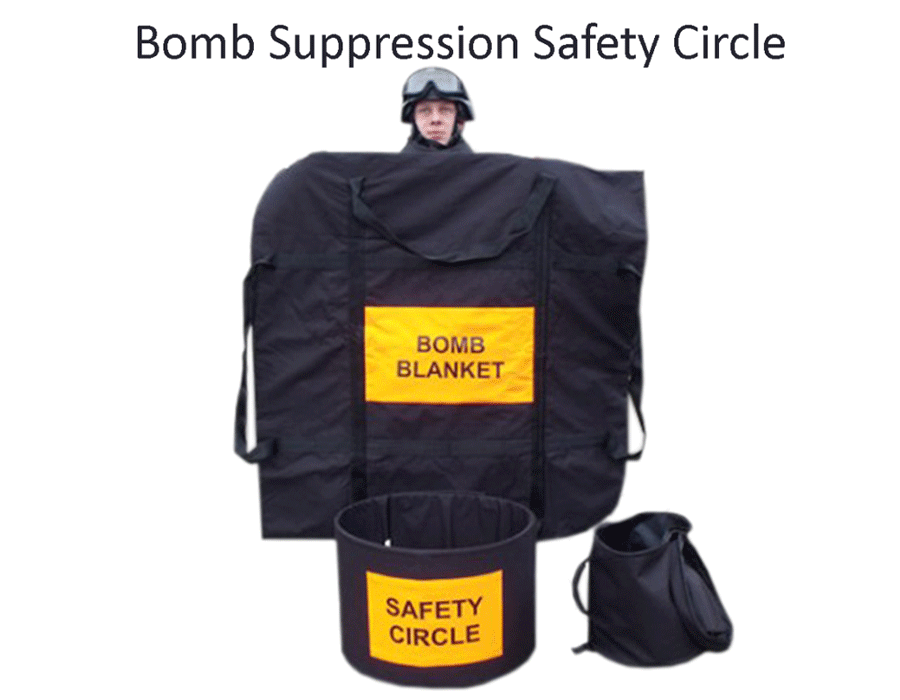 Bomb Suppression Blanket
Both the bomb suppression blanket and safety circle are designed to meet specific threats using either STANAG 2920 or MIL-STD 662F fragmentation protocols, protection level of 100 gm RDX to 2kg TNT blast suppression with V50 from 450 to 670m/s
Features of Bomb Suppression Blanket
The standard bomb suppression blanket has four heavy duty webbing carry straps to aid rapid deployment. 

The construction is multiple layers of treated aramid ballistic fabric sewn into a fire retardant and water repellent outer cover. 

Clearly labelled, black on fluorescent orange, "BOMB BLANKET". 

The lightweight and semi rigid safety circle has been designed to support the bomb suppression blanket. 

Easily adjustable by a Hook and Loop fastening. 

Made from the same material construction as the blanket, is clearly labelled, black on fluorescent orange, "SAFETY CIRCLE". 

The bottom edge of the safety circle has been reinforced to prevent wear and tear when it is in contact with the ground. 

Different sizes and protection levels can be manufactured to meet specific requirements. Colours: 

The standard nylon outer cover and webbing handles are black but other colours are available to meet customers colour and marking requirements.
These above mentioned properties, features, and advantages makes Kapri Corp's Bomb Suppression Blanket the ultimate product choice for Security and Surveillance Systems. For additional information about this product or any other our range of products.
Kindly contact our technical experts for your specific needs and product requirements.
Do you have any questions or need help with our products? Submit a request or Call us.
Applications of Bomb Suppression Blanket
Security Inspections

IED and Explosives Detection
Technical specifications of Bomb Suppression Blanket
| | |
| --- | --- |
| Best Price: | |
| Company: | Kapri Corp |
| Brand: | Kapri Corp |
| Category: | Explosive Detection Equipment |
| Bomb Suppression Blanket: | Bomb Suppression Blanket |
| Min order Quantity: | 1 PC |
Why Kapri Corp
We, Kapri Corp are leading provider of High End Security Solutions to several major sectors. As a key service provider & supplier, we offer the right product and service to safeguard your business or home. We do import & export, and supplier of assorted security products that are effective in your project execution, be it small or big. Our comprehensive product line covers: Wireless Security Surveillance Systems, High Security Devices, Baggage Scanners, Metal Detectors & Explosive Detectors.
At Kapri Corp, we offer
Complete Security Solutions and surveillance products.

High-end products with robust quality and high reliability 

Superlative technical capabilities to address advanced industrial requirements for non-destructive testing. 

Highly trained team of support staff, we respond to calls for service and maintenance within the shortest possible time. 

Successfully and satisfactorily carried out numerous niche and critical projects since 2005.  

Delivered many prestigious projects providing equipment and providing supports to the Para- Military Forces (BSF & CRPF), CPOs and State Police, Corporate and Non-Governmental Organizations and most recently the Indian Army.
Browse our range of High-Tech Security, Detection and Surveillance products for its features, applications, product pricing, specifications and applications.