Kapri Corp is leading importer, exporter, and supplier of Explosive Vapor Detector – Explosive Detection Equipment, Bomb Detection equipment, Explosive Ordnance Detection – Medium Size Baggage, Explosives – Trace Detection, Portable Explosive Vapor Detector, Aviation and Airports Security solution, Defence Security Solution provider.
Kapri Corp provides Highly Advanced Range of High-Tech Security system, Explosives and Narcotics Detection, EOD and IDD Disposal, Scanning & Screening Solutions, and Surveillance Devices.
Delivering dependable safety and security solutions for decades, we offer the comprehensive portfolio of products for any High-Tech Security, Detection and Surveillance Solutions industry. Kapri Corp offers a wide range of High-Tech Security, Detection and Surveillance Solutions, products, specialization in the distribution and maintenance.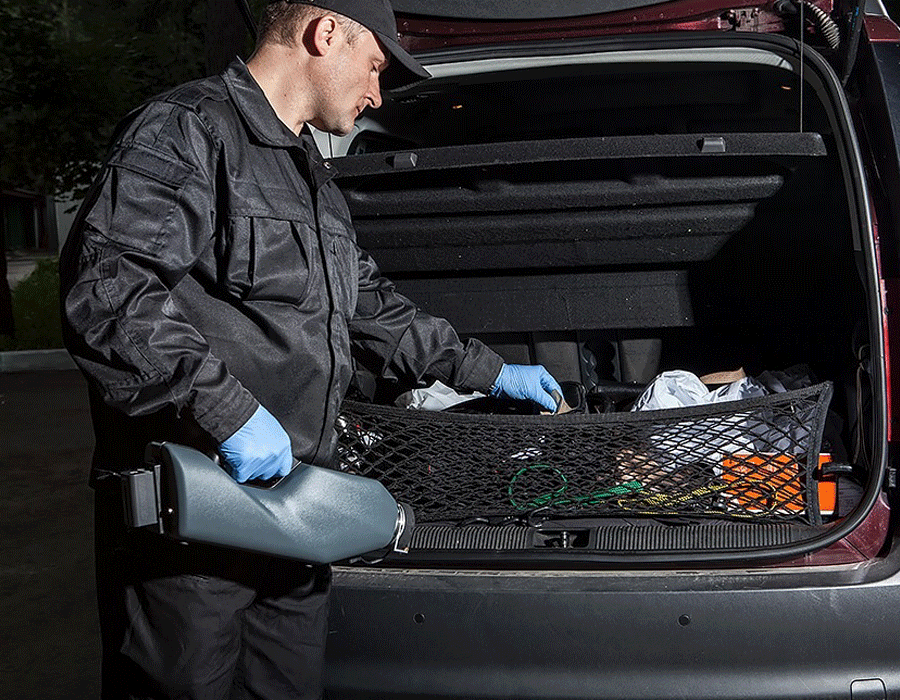 Explosive Vapor Detector
The Explosive Vapour Detector (named M-ION) in made after taking inputs from technical experts in vapour detection domain regarding design, functional aspects and product development. With an internal GPS, Optional Radiation Detector and 1GB/s LAN connection, information gathering on detection, location and type of explosive (including dirty bombs) has never been easier.
It has well-developed and tested software functionality for quick vapour detection enabling the user to program newly discovered explosives detection on the fly just simply by taking a "sniff" of the suspected sample. Software library is updated regularly from general explosives to new substances making it easy for Bomb Detection Teams.
Features of Explosive Vapour Detector (EVD):
Rugged design and trademarked "non-radioactive" ionization of the sample vapour.

Easy user interface of M-ION making it one of the safest and handy machines to use in its class. 

4.5" Touchscreen Easy user interface for the operator to control the device with ease.

Comprehensive and detailed Information for smooth detection of vapours.

Faster testing and Detection in less than 10 seconds as no initial warming is necessary. 

No consumables components in EVD making it one of in its class.

100 % local support for service and maintenance in 24 hours.
Kindly contact our technical experts for your specific needs and product requirements.
Do you have any questions or need help with our products? Submit a request or Call us.
Advantages of the Explosive Vapor Detector
Quick Vapour Detection

Instant performing and High System Efficiency  

Fail-Safe Design and Overall Ease

Cost Effectiveness with instant results.
These above mentioned properties, features, and advantages makes Kapri Corp's Explosive Vapour Detector (EVD) the ultimate product choice for vapour detection in Security and Surveillance Systems. For additional information about this product or any other our range of products.
Applications of Explosive Vapor Detector
Explosive Vapour Detector (EVD) is used detection of vapours of explosive substances and many more types of other substances.
Technical specifications of Explosive Vapor Detector
| | |
| --- | --- |
| Best Price: | |
| Company: | Kapri Corp |
| Brand: | Kapri Corp |
| Product name: | Explosive Vapour Detector ( M-ION) |
| Category: | Detectors |
| Display Size: | 4.5" Touchscreen |
| Detection Time: | Less than 10 seconds |
| Connection: | 1GB/s LAN connection |
| Functionality: | Internal GPS enabled |
| Communication protocol:    | Bluetooth, Wifi / Cable |
| Min order Quantity: | 1 PC |
Why Kapri Corp
We, Kapri Corp are leading provider of High End Security Solutions to several major sectors. As a key service provider & supplier, we offer the right product and service to safeguard your business or home. We do import & export, and supplier of assorted security products that are effective in your project execution, be it small or big. Our comprehensive product line covers: Wireless Security Surveillance Systems, High Security Devices, Baggage Scanners, Metal Detectors & Explosive Detectors.
At Kapri Corp, we offer
Complete Security Solutions and surveillance products.

High-end products with robust quality and high reliability 

Superlative technical capabilities to address advanced industrial requirements for non-destructive testing. 

Highly trained team of support staff, we respond to calls for service and maintenance within the shortest possible time. 

Successfully and satisfactorily carried out numerous niche and critical projects since 2005.  

Delivered many prestigious projects providing equipment and providing supports to the Para- Military Forces (BSF & CRPF), CPOs and State Police, Corporate and Non-Governmental Organizations and most recently the Indian Army.
Browse our range of High-Tech Security, Detection and Surveillance products for its features, applications, product pricing, specifications and applications.