EOD (Explosive Ordnance Disposal) Hook and Line Kits are specialized tools used by bomb disposal experts to safely handle and manipulate hazardous objects from a distance. These kits consist of various components designed to remotely move, lift, or manipulate objects in a controlled manner, minimizing the risk to the operator.
Kapri Corp is a prominent importer and supplier of EOD Hook and Line Kits, providing reliable and advanced solutions for bomb disposal and hazardous object handling. Our comprehensive range of kits is designed to meet the specific needs of bomb disposal teams, law enforcement agencies, and military units.
Our EOD Hook and Line Kits are designed with precision and functionality in mind, allowing operators to perform delicate tasks with utmost safety and precision. These kits are crafted to be durable, versatile, and effective in various scenarios, ranging from unexploded ordnance to improvised explosive devices.
As a leading importer and supplier in the security and defense sector, Kapri Corp is committed to providing top-quality EOD Hook and Line Kits that adhere to stringent safety standards and deliver reliable performance. Our expertise in sourcing and supplying cutting-edge equipment ensures that bomb disposal teams have the tools they need to neutralize threats and maintain public safety.
Specifications of EOD Hook and Line Kits
For Technical Parameters / Specifications, please download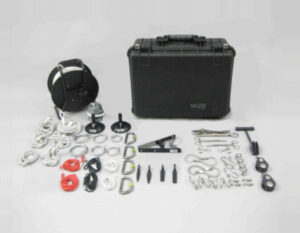 Epsilon Hook & Line EOD Kit
Product Code – HL007400
This Epsilon HAL Kit is the basic, standard hook and line kit. It has all the essential tools to carry out complete basic HAL procedures. Supplied in a rigid Pelican carrying case.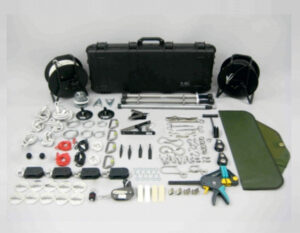 Sigma Hook & Line EOD Kit
Product code: HL007500
This kit contains all the tools in the Epsilon Kit, and additional tools making this the most comprehensive kit. Twin reels of line give the option of a 2-line pull, and many of the additional tools are designed for working in urban areas. When used with a kit from the Alpha range, the system is able to deal with all hook and line tasks. Supplied in a rigid Pelican carrying case.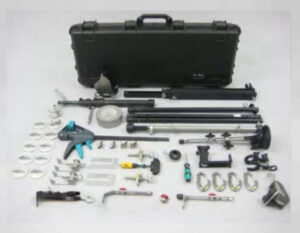 Alpha 4 Hook & Line EOD Kit
Product Code: HL007100
This kit has the complete NIC range of specialist tools used for working in buildings and on vehicles. When used with a Sigma kit, a total Hook and Line system is created. Supplied in a rigid Pelican case.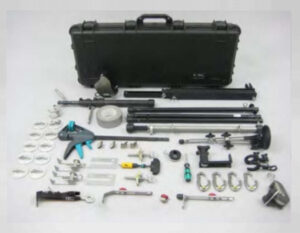 Alpha 5 Hook & Line EOD Kit
Product Code: HL007200
The ALPHA 5 BUILDING ENTRY KIT has the NIC range of specialist tools used for working in buildings. Supplied in a rigid Pelican case.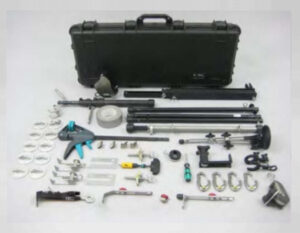 Alpha 6 Hook & Line EOD Kit
Product code: HL007300
The ALPHA 6 VEHICLE ENTRY KIT has the world leading NIC range of specialist tools used for working on vehicles. Supplied in a rigid Pelican case.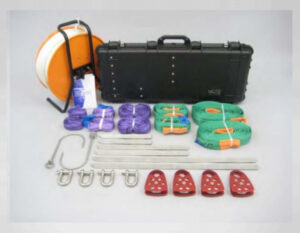 Heavy Duty Hook & Line Kit
Product code: SE000900
A heavy-duty kit for moving vehicles or heavy suspect objects. The kit contains a range of rated slings and heavy duty snatch blocks. Supplied in a rigid Pelican carrying case.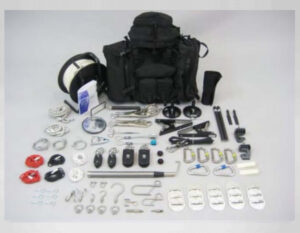 Gamma
Product Code: HL009600
The Gamma B brings together much of the functionality of the entire NIC range of hook and line equipment. Mounted in a backpack, for dismounted and SOF operations. Tools are stored in clear pouches and Velcro mounted for easy detaching and exchanging. The backpack comes with detachable side pouches, which may be used to go forward to specific tasks. The Gamma B kit includes a complete range of rope, hooks, anchoring objects, pulleys and attachment tools, as well as a selection of search mirrors and telescopic arms from the NIC search equipment range.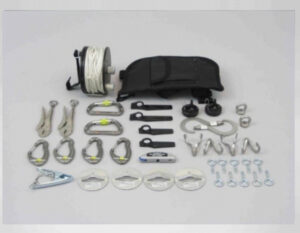 Delta Lightweight Hook & Line Kit
Product code: HL008700
The DELTA LIGHTWEIGHT HAL KIT is a  very light kit designed for EOD and search operators
working in combat zones. The kit is minimalist, and only has the essential tools for basic hook and line procedures.
It is small and light weight, and the thigh pouch storage
makes it the perfect solution for rapid response.
Kindly contact our technical experts for your specific needs and product requirements.
Do you have any questions or need help with our products? Submit a request or Call us.
Applications of EOD Hook and Line Kits
Kapri Corp's EOD Hook and Line Kits serve a range of critical applications, primarily utilized by law enforcement officers and emergency responders. These kits are especially valuable to members of hazardous materials (HAZMAT) and specialized tactical teams like Special Weapons and Tactics (SWAT) units who are trained as bomb or hazardous device technicians. The applications of these EOD Hook and Line Kits include:
Explosive Ordnance Disposal (EOD):

EOD Hook and Line Kits are indispensable tools for bomb disposal experts and EOD technicians. They are used to safely and remotely handle suspicious objects, unexploded ordnance, improvised explosive devices (IEDs), and other hazardous materials. These kits enable technicians to maintain a safe distance while dealing with potentially dangerous devices.

Tactical Entry and SWAT Operations:

Tactical teams, such as SWAT units, rely on EOD Hook and Line Kits to assist in gaining access to buildings or vehicles that may be booby-trapped or contain explosive devices. These kits allow for controlled removal or manipulation of potential threats, ensuring the safety of both team members and civilians.

Search and Rescue Operations:

During search and rescue missions, EOD Hook and Line Kits can be used to assess and safely handle debris or wreckage that may contain hidden hazards. These tools aid in identifying and neutralizing potential explosive risks in disaster-stricken areas.

Law Enforcement Activities:

Law enforcement agencies utilize EOD Hook and Line Kits to mitigate risks posed by suspicious packages or objects encountered during routine operations. These kits enable officers to minimize exposure to potentially dangerous devices while maintaining operational effectiveness.

Counterterrorism Operations:

In counterterrorism efforts, EOD Hook and Line Kits contribute to identifying, evaluating, and neutralizing explosive threats posed by terrorist activities. These tools are essential for ensuring public safety in high-risk situations.
Kapri Corp's EOD Hook and Line Kits play a pivotal role in enhancing the safety and effectiveness of law enforcement and emergency response teams in challenging and hazardous situations.
Why Kapri Corp
We, Kapri Corp are leading provider of High End Security Solutions to several major sectors. As a key service provider & supplier, we offer the right product and service to safeguard your business or home. We do import & export, and supplier of assorted security products that are effective in your project execution, be it small or big. Our comprehensive product line covers: Wireless Security Surveillance Systems, High Security Devices, Baggage Scanners, Metal Detectors & Explosive Detectors.
At Kapri Corp, we offer
Complete Security Solutions and surveillance products.

High-end products with robust quality and high reliability 

Superlative technical capabilities to address advanced industrial requirements for non-destructive testing. 

Highly trained team of support staff, we respond to calls for service and maintenance within the shortest possible time. 

Successfully and satisfactorily carried out numerous niche and critical projects since 2005.  

Delivered many prestigious projects providing equipment and providing supports to the Para- Military Forces (BSF & CRPF), CPOs and State Police, Corporate and Non-Governmental Organizations and most recently the Indian Army.
Browse our range of High-Tech Security, Detection and Surveillance products for its features, applications, product pricing, specifications and applications.