Cargo scanner is a sophisticated and crucial piece of technology designed to ensure the safety and security of goods and shipments moving through various points of entry, such as ports, border crossings, and transportation hubs. Cargo scanning employs advanced imaging methods, such as X-ray and gamma-ray imaging, to non-invasively inspect the contents of cargo containers, vehicles, and packages. By providing detailed images of the interior of items being screened, cargo scanner machine aids authorities in identifying potential threats, contraband, and hazardous materials, contributing to efficient customs clearance and enhancing security measures.
Kapri Corp stands as a distinguished player in the market of security and detection technology, renowned for its role as a leading importer, supplier, service provider, and installer of cargo scanners. As an importer and supplier, Kapri Corp ensures the accessibility of the advanced cargo scanner systems to various industries, ranging from logistics and transportation to law enforcement and border control.
In essence, the company's position for the installation of Cargo Scanner underscores the dedication to elevating security standards across various industries. By offering pioneering technology and comprehensive support, Kapri Corp plays a pivotal role in fortifying supply chains, enhancing border security, and safeguarding against potential threats posed by illicit cargo. Contact Kapri Corp, a leading supplier and importer in Mumbai, India for installation or purchase.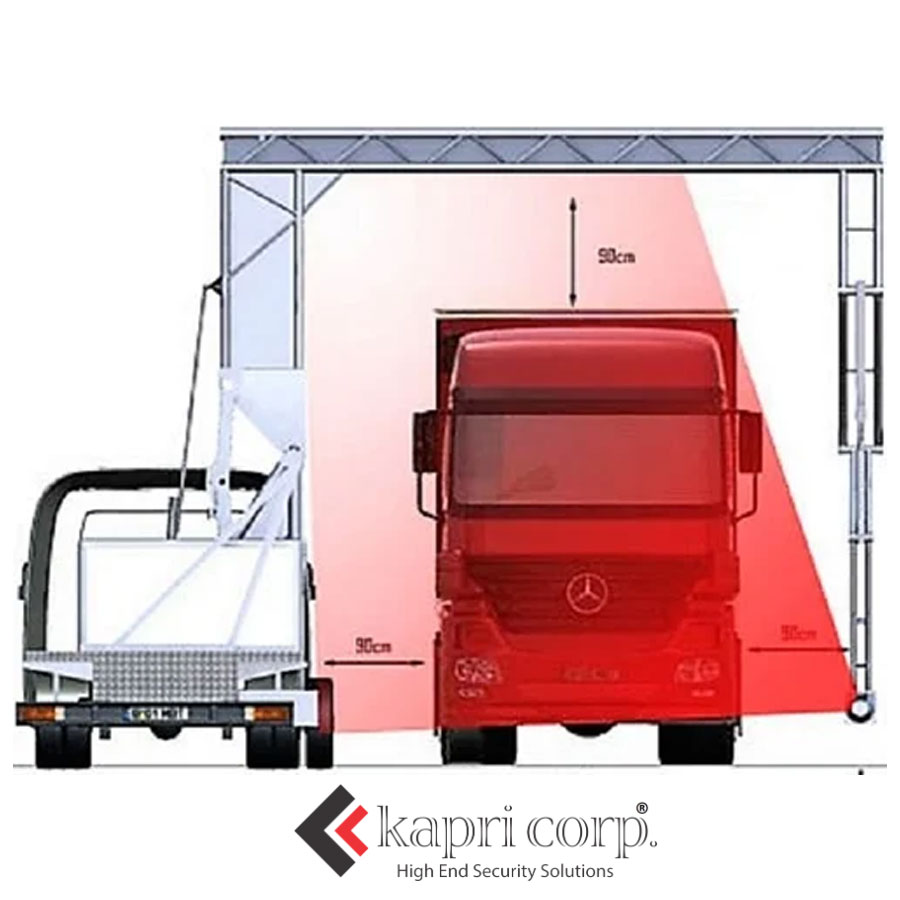 Specifications of Cargo Scanner
For Technical Parameters / Specifications, please download
Features of Cargo Scanner
The Cargo Scanner boasts a range of features that underscore its efficiency, safety, and reliability in enhancing security measures:
Fully Automated and Cost-Effective:

Utilizes automated processes to streamline cargo inspection, optimizing operational efficiency and reducing time and manpower requirements. Offers a cost-effective solution for comprehensive scanning and screening.

Advanced Gamma Ray Technology:

Incorporates cutting-edge Gamma Ray scanning technology powered by a secure radioactive source (Cobalt-60). This technology ensures accurate and thorough inspection of cargo contents.

Wide Application Range:

Suitable for inspecting a diverse range of cargo, including goods within cargo containers, trucks, and passenger vehicles. Offers versatility in detecting potential security threats across different transportation modes.

Preventing Contraband and Undeclared Goods:

Designed to identify and prevent the illicit transport of contraband, hidden items, and undeclared goods. Enhances border security and customs enforcement efforts.

High-Security Environments:

Especially tailored for use in high-security zones like border crossing points, sea harbours, and military access areas. Acts as a powerful deterrent against unauthorized and illegal activities.

Safety and Reliability:

Ensures the safety of both cargo and personnel through its reliable and secure scanning process. Completely safe for human occupants within the scanned vehicles.

Material Discrimination Capability:

Equipped with a unique material discrimination feature that enhances its ability to differentiate between various types of materials. This allows for more accurate identification of potential threats.

Highest Resolution Imaging:

Offers the highest resolution Gamma Scanner imaging, enabling detailed and precise visualization of cargo contents. Facilitates thorough inspection and reduces the chances of overlooking hidden items.
The Cargo Scanner stands as a highly advanced solution that utilizes fully automated, cutting-edge Gamma Ray technology to enhance security screening processes.
Advantages of Cargo Scanner
The Cargo Scanner, exemplified by the ROBOSCAN model, offers a range of distinct advantages that revolutionize security screening processes:
Unmatched Throughput and Penetration:

The ROBOSCAN cargo scanner boasts the highest throughput globally, ensuring swift and efficient screening without compromising accuracy. With its exceptional penetration capability, it reveals concealed items within cargo effectively.

Efficient "Drive Through" Capability:

The system's remarkably low radiation levels enable a "Drive Through" approach, allowing vehicles to pass through without causing delays. This innovative feature ensures seamless and swift traffic flow at checkpoints.

Impressive Throughput Rates:

The ROBOSCAN achieves remarkable throughput rates, capable of scanning up to 500 cars and vans per hour, as well as up to 200 trucks or buses per hour. This high capacity contributes to expedited cargo screening processes.

Traffic Management:

Regardless of the volume of traffic, the ROBOSCAN's efficient throughput prevents traffic jams at checkpoints. Its design accommodates smooth traffic flow, enhancing operational efficiency.

Effective Discouraging Strategy:

The cargo scanner's deployment, with its comprehensive scanning approach, provides the highest level of discouragement against unauthorized activities. This proactive strategy bolsters security measures and deters potential threats.

Substantial Steel Penetration:

With an impressive penetration capability of 180 mm of steel, the ROBOSCAN can reveal hidden items even within densely packed cargo, ensuring thorough inspection.
The advantages of the Cargo Scanner, as exemplified by the ROBOSCAN model, encompass its unmatched throughput rates, innovative "Drive Through" capability, efficient traffic management, robust discouragement strategy, and impressive penetration capabilities.
Applications of Cargo Scanner
The applications of the Cargo Scanner are diverse and critical for enhancing security and facilitating efficient screening processes. Here are some key applications:
Border Crossings and Customs:

Cargo scanners play a pivotal role in inspecting vehicles and cargo at border crossing points and customs checkpoints. They aid in detecting contraband, illicit goods, and potential security threats, ensuring compliance with regulations and preventing unauthorized activities.

Port and Maritime Security:

Ports and maritime terminals utilize cargo scanners to screen shipping containers and vessels for hidden or undeclared items.

Airport Cargo Screening:

Airports use cargo scanners to inspect air freight, packages, and cargo transported on commercial and cargo planes.

Logistics and Transportation Hubs:

In logistics centers and transportation hubs, cargo scanners verify the contents of trucks, vans, and trailers, ensuring that goods comply with regulations and safety standards before they are transported.

Critical Infrastructure Protection:

Cargo scanners are employed to screen vehicles entering critical infrastructure sites, such as power plants, military bases, and government facilities.

Event Security:

During major events or gatherings, cargo scanners are used to screen vehicles and equipment entering event venues.

Customs Enforcement:

Cargo scanners aid customs authorities in detecting illegal goods, including narcotics, counterfeit items, and smuggled goods.

Anti-Terrorism Measures:

Cargo scanners contribute to counter-terrorism efforts by identifying potential threats hidden within cargo.

Humanitarian Aid:

When delivering humanitarian aid to disaster-stricken regions, cargo scanners help ensure that relief shipments contain the intended supplies and are free from any potential dangers.

Law Enforcement:

Law enforcement agencies use cargo scanners to inspect vehicles suspected of carrying illegal goods, aiding in investigations and enforcement activities.
Cargo scanners have broad applications across sectors that involve transportation, trade, security, and compliance.
Technical specifications of Cargo Scanner
| | |
| --- | --- |
| Best Price | |
| Company | Kapri Corp |
| Brand | Kapri Corp |
| Category | Scanning & Screening Solutions |
| Product name | Cargo Scanner |
| Penetration Level | 150-180 mm of steel |
| Radiation Energy Level | 1,25 Me V |
| Radiation Source | Radioactive Substances Cobalt 60 isotope |
| Scanner Type | Gamma Scanner |
| Speed | 200mm/S ~ 400mm/S |
| Throughput Capacity | Approx. 150-200 trucks per hour |
| Min order Quantity | 1 PC |
Why Kapri Corp?
We, Kapri Corp are leading providers of High End Security Solutions to several major sectors. As a key service provider & supplier, we offer the right product and service to safeguard your business or home. We do import and supply assorted security products that are effective in your project execution, be it small or big. Our comprehensive product line covers: Wireless Security Surveillance Systems, High Security Devices, Baggage Scanners, Scanning & Screening Solutions, Metal Detectors & Explosive Detectors.
At Kapri Corp, We Offer:
Complete Security Solutions and surveillance products.

High-end products with robust quality and high reliability 

Superlative technical capabilities to address advanced industrial requirements for non-destructive testing. 

Highly trained team of support staff, we respond to calls for service and maintenance within the shortest possible time. 

Successfully and satisfactorily carried out numerous niche and critical projects since 2005.  

Delivered many prestigious projects providing equipment and providing support to the Para- Military Forces (BSF & CRPF), CPOs and State Police, Corporate and Non-Governmental Organizations and most recently the Indian Army.
Browse our range of High-Tech Security, Scanning & Screening Solution products for its features, applications, product pricing, specifications and applications.